E. J. Koh non la conosce nessuno ma forse James Franco si.
Cercavo articoli sulla normativa privacy europea.
Per non fare una figura barbina con la mia capa (spoiler: l'ho fatta comunque) ero intenta a scorrere febbrilmente frasi smozzicate di gente autorevole o presunta tale sui futuri scenari legislativi di videosorveglianza, droni e fantascientifica compagnia bella.
Ero giovane, inesperta e stavo chiaramente sopravvalutando le mie capacità.
E infatti Privacy Policy: The Anthology of Surveillance Poetics (Black Ocean Press, 2014) m'è parso un ottimo testo da cui far partire le mie investigazioni: cos'altro avrebbe potuto contenere, se non lo sproloquio spassionato di qualche luminare vertente alla poesia intrinseca (ndr.: invisibile) di detta garantistica materia?
(altro spoiler: tutt'altro.)
E' cosi' che ho scoperto E. J. Koh. Breve lista di random facts:
– mezza coreana, autrice, poetessa, mezza americana, traduttrice, aspirante agente CIA (non necessariamente in quest'ordine)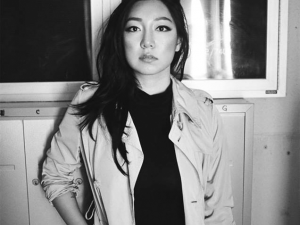 – è segnalata nelle raccolte della "James Franco Review"*: supponendo vi piaccia James Franco, per proprietà commutativa vi piace pure lei
–  si veste un sacco bene
– non la conosce (quasi) nessuno e questo è il primo articolo scritto su di lei in italiano. (Siamo fiiighi, eh?)
Ha prodotto, fra le altre, una poesia dal titolo letteralmente folgorante:
Ingredienti per memorie che si possono usare come esplosivi.
Parla di cose, tante. Cose che paiono carenti di nessi causali, che esplodono di colore e di paradossi – il superfluo necessario, l'ardire della lacrime di felicità nell'incavo dell'anima. Discorre dei tetti della vita, di corpi che sono come corridoi. Dei papi (si, pure te, Lenny Belardo) quando muoiono e rimbombano tre volte del tintinnio argentino di martelli piccoli. Dell'essere una e tutt'una – e soprattutto, della giovinezza, l'esistere vibrante incline al mi sono dimenticata quello che ti volevo dire.
Ma più di tutto, in un'ardita similitudine marina parla di conchiglie della risata che si sono finalmente "cotte", dischiuse al sussurro che e' un trino urlo affermativo – all'inizio, in mezzo, per ultimo: non sono piu' triste, non sono piu' triste, non sono piu' triste.
Ingredients for Memories That Can Be Used As Explosives
I am not sad anymore; I am on the rooftop of my life
cheering until my body of hallways opens, jade and steaming.
When a pope dies tradition says to hit his head with a silver
hammer 3 times to see if he's alive: koong koong koong koong.
I've been so many popes. The shells of laughing are cooked.
Open the door and let them know I am not sad anymore.
Not once carrying my lunch pail soul with bright green fingernails—
Can a soul be excited to tears? That's the one time a soul is excited.
I am together – feel my forehead – I am young
but I always forget what I meant to say; except I am alive!
And I will not jump from here because the wind is coming.
It has a beak and a tooth and has heard I am not sad anymore.
(E. J. Koh, 2013)
*ndr.: Nulla di tutto cio' ha davvero a che vedere con James Franco. Ooops.