The epiphanies that make Cremona a special place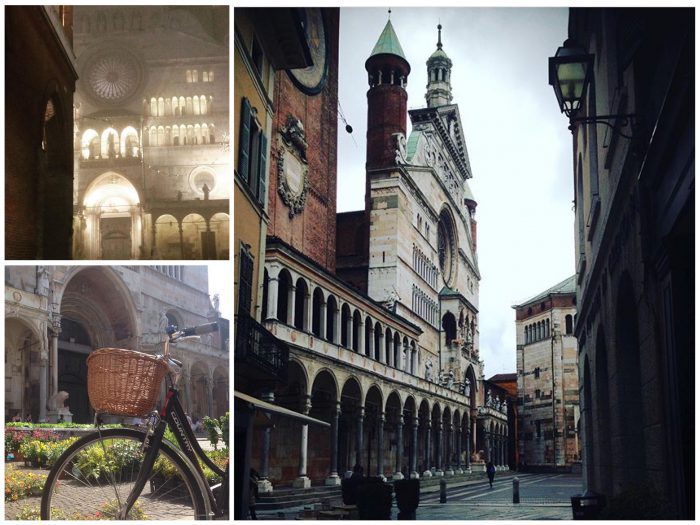 Cremona in Autumn isn't good if you are a meteropathic.
It may be the fog – filling the streets, hiding the bell towers and making everyone feel a little more alone than usual. Or the humidity, which we blame for every climatic nuisance, as we hole up in some osteria to warm bones and soul with come good wine, or beans and "cotiche" – the local word for pork rind.
Here you can't see mountains – if not in the clearest days – nor sea at the horizon: only the typical lowland panorama where men once roamed in cloak and bicycle and now struggle with modern hassles.
The ones born in Cremona never forget that there are more exotic places to live in or less provincial cities to seek fortune to. And yet, there are some small and brief epiphanies that make this fat and sleepy town a special place, somewhere to stay or to come back to, with no desire if not a plate full of "Marubini" and a wall of fog to disappear in, somewhere between the Battistero and Via Solferino.

Cremona is a great place to wander, peeking into the hidden courtyards of stately homes and taking narrow alleys where shops and bakeries give way to luthier botteghe. It is nice to walk through Piazza Duomo under the marble lions' watchful eyes and feel overwhelmed by the Torrazzo – its dimension gives great pride to the locals, who believe that it is really impossible to find tower bells of such height anywhere else in Europe.
On Saturdays, it is nice to head to the market, effortlessly wandering through stands selling underwear and roasted chicken, while the square becomes a colorful expanse of flowers, succulents and bicycles. Corso Campi is always so full of light in the morning, if you cross it by bicycle looking for notepads, socks, lipstick and books – usually in this order – zigzagging through high school students running late and old women complete with furs and dogs. From there, it's easy to continue down to the crossroad with Corso Garibaldi and pedal through fruit and vegetable sellers and boutiques until Palazzo Cittanova, silently staring at the whole street.
On Sunday, it is nice to join families, couples and cyclists strolling along the side of the River Po, the great river so far and yet so close to Cremona, and look as the canoeists wait for an orange sunset that stumbles upon whirlpools and white foam.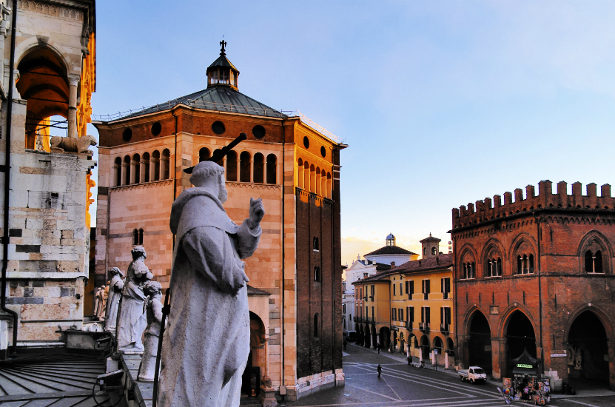 Downtown, every weekend the streets fill with markets selling antiques, books, handmade products, plants and food. Festivals dedicated to music, books and beer liven up Cremona squares and old gates in every season. Art expositions enrich the city starting from the Museo Civico Ala Ponzone; the Museum of Violin hosts yearly expositions ranging from the robots of Janello Torriani to the photos of Magnum.
Every night a concert, a book presentation, a special show offered by the small theatre and cinemas in town seems to push fog and cold weather a little further on Via Mantova. Behind the steamed glasses of a bar, beer in hand, one can even feel good – even if it is not Berlin on the outside.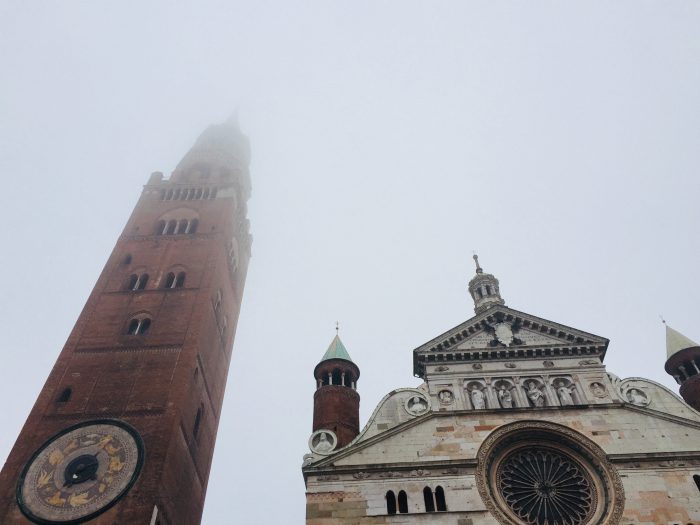 As Christmas comes closer, the illuminated grocery shops abundantly  fill up with mustards, "marubini", salami and pork sausages, while in the shop windows appear "torrone" and a multiplicity of sweets: they will end up in the presents left by "Santa Lucia", celebrated in the morning of December 13th. In this narrow streets sounds are muffled by the fog, but it is still easy to recognize the typical Cremonese chant, slow and with very long vowels, the sentences always beginning with a "cat" – provided that you don't have something to complain about, as in this case locals prefer to blow off with a "Iga" (local curse word meaning "cunt") always pronounced as "èeeeeega".
In the evening, the Torrazzo monitors Cremona's sky with its yellow lights; a little further, Sant'Abbondio tower bell seems to challenge its neighbor's height, taking pride in its beautiful bells. Also Stradivari Square is colored in yellow, its lights reflecting in the cobblestones wet from long-awaited rain, while the projection in honor of Monteverdi dominates the walls of the Municipal Palace, celebrating the 450 years from the birth of the  local composer.
On the day dedicated to the Patron Saint of the city, November 13th, the whole city enjoys a vacation day to celebrate Omobono, Saint protector of merchants, textile workers and tailors. In mid-November the "Festa del Torrone" livens up the city. The evening before a big crowd of tourists and gluttons invades this really humid corner of Lombardy, one can peacefully enjoy all this humidity with a stroll through the empty Corso, under a sky of Christmas lights, slowly disappearing into the fog.
Translated by: Ottavia Mapelli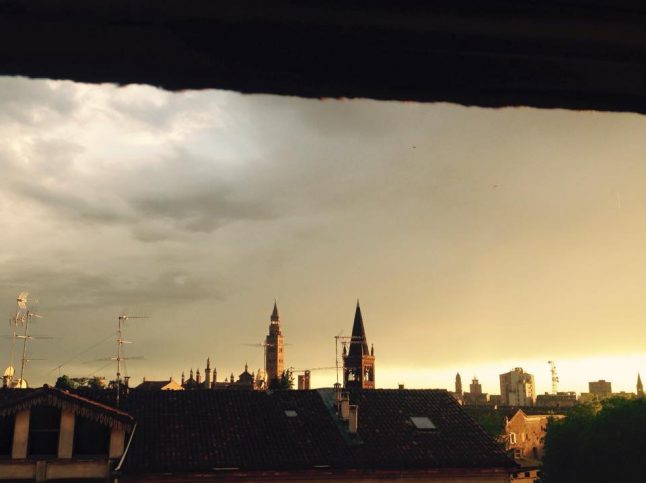 Anche tu puoi sostenere SALT! Negli articoli dove viene mostrato un link a un prodotto Amazon, in qualità di Affiliati Amazon riceviamo un piccolo guadagno per qualsiasi acquisto generato dopo il click sul link (questo non comporterà alcun sovrapprezzo). Grazie!