Berlin is a bitch and then you marry

These thoughts about Berlin date back to a summer night on the grass of the Tempelhof airport.
Flughafen Tempelhof (at the U-bahn stop Platz der Luftbrücke on the U6) is one of my favorite places in Berlin, a real airport right in the city center, shut down for good in 2008. In 2010 it was turned into a huge public park (bigger than Central Park in New York City), with endless landing strips where the Berliners spend their Sundays skating (some of them even try to ski there). Of course, many real estate corporations have tried to buy this area and turn it into a mall, but the citizens strongly opposed such gentrification. And it actually worked! Not quite like what happened to Kunthaus Tacheles (Oranienburger Straβe, at the stop Oranienburger Tor on the U6), a big soviet building which became the biggest artist squat in Europe after the Wall fell down, with an art gallery where young artists from all over the world could show their works for free. After twenty years, it was bought by a real estate company and emptied in 2012. It's still worth a visit, it's so impressive and decadent that it always makes me regret not coming to Berlin earlier.
It's still possible to experience something similar in Revaler Straβe, right next to the S-bahn station of Warschauer Straβe. Here, a former railway workshop is now a manifesto for the artists in Berlin. It's called Reichsbahnausbesserungswerk ("workshop for railway repairs"), cut short in RAW, thank God. I must say it's a little sketchy at night (although I would recommend going to the "Suicide Circus" club), but it's great during the day. The run-down buildings of this block are now a place for culture, where jugglers, painters, musicians and actors get together in the afternoon to rehearse and perform. Some of the most famous murals in the city were painted here.
Speaking of murals, Berlin is the street art paradise, a real urban movement, way more complex and structured than I thought. And now it's time for some Italian pride: some of the best murals were made by Blu, an Italian artist! His masterpiece (a headless man, handcuffed by two golden watches) can be seen by the Oberbaumbrücke, the bridge on the Spree which joins the districts of Friedrichshain and Kreuzberg. If you like these kinds of things you have to go to Teufelsberg (literary the "Devil's Mountain"), one of the most striking places in Berlin.  Here, in the middle of the forest in the surroundings of Berlin, there is a radio station. During the cold war it was used by the Americans to spy on the Russians in East Berlin, and now it has been squatted by artists. The only problem is that it's pretty hard to reach, since it's completely lost in the woods… Once you get to Grunewald on the S7 you have to ask at the little cafe for directions. You will meet a super cute barista who will give you very bad directions, so you will still have to wonder around, trying to remember what your parents taught you during camping trips. But hey, it's worth it! Even I was caught up in this whole underground culture, and I'm the furthest thing from underground!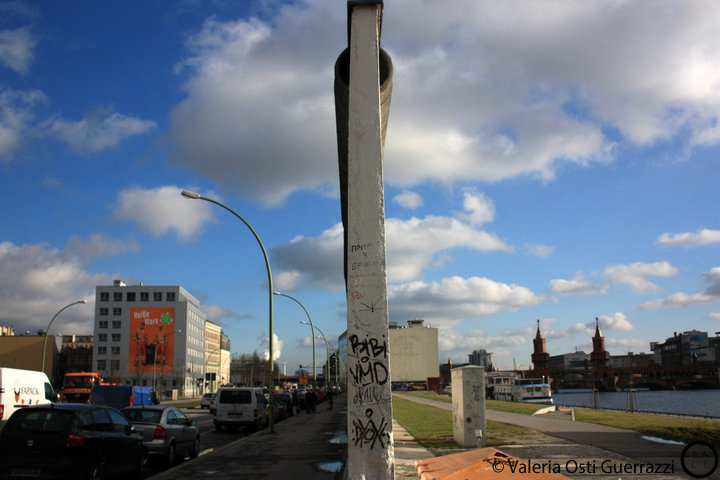 These are just some (very few, actually) of the things that are worth a visit in Berlin, and don't even get me started on how beautiful is the Reichstag at sunset or the majesty of the Pergamon Altar. Nonetheless, Tempelhof, the RAW, Teufelsberg, the hidden bars in Kreuzberg, the bongos in Mauerpark on Sunday, the bonfires on the Spree shore at Kater Holzig, the huge Berghain are the things that made me feel like Berlin was something different from any other city. Why? What's so special about it? It's not as romantic as Paris, nor as dynamic as New York. Where does all this vibrating energy come from? I thought about it for a while, and then finally I understood. It's all about the Wall. Yes, of course, today the Wall is not physically there anymore, but you can stumble upon it at every second. Even though it all happened 24 years ago, and therefore the 20-year-old Berliners didn't fight to tear down the Wall, the air you breath here still tastes like freedom. Now that we are free, we have to cover every square inch with our art. Now that we can party, we have to party hard, we have to play the music loud to forget that here, right here where today there are some of the best clubs of Europe, 25 years ago people weren't even allowed to listen to the radio. Berlin is a city that lives to the fullest. It's like an endless protest; an apotheosis of everything that was forbidden yesterday. And it is in this way that the city makes you feel so alive.
The districts of the city are extremely different from each other, you can go from the multiethnic NeuköIln to the radical chic Prenzlauer Berg in no time, finding yourself walking in the 70's. I believe that after having been at the mercy of English, Americans, French and Russians, Berlin is still looking for its own identity. Regardless of all this variety, there is a common feeling perceived all around the city, and it's something between the desire to live and freedom, both so recently achieved that they still deserve to be celebrated every day.
I don't recommend coming to Berlin to those who are looking for the breathtaking beauty we're used to in Italy. But if you are eager to feel alive, don't waste one more minute and book your flight.
Anche tu puoi sostenere SALT! Negli articoli dove viene mostrato un link a un prodotto Amazon, in qualità di Affiliati Amazon riceviamo un piccolo guadagno per qualsiasi acquisto generato dopo il click sul link (questo non comporterà alcun sovrapprezzo). Grazie!