Raymond Carver sognava i salmoni
"When I'm fishing, I feel guilty that I'm not writing, and when I'm writing, I feel guilty that I'm not fishing. But when push comes to shove, I'll always take the writing." (R. Carver)
Per Raymond Carver, the America's Chekhov, le poesie non erano grovigli che riempivano lo spazio tra un racconto e l'altro ma, piuttosto, la corrente spirituale che gli forniva la spinta necessaria per creare le sue storie. Le sue poesie sono tutt'altro che liriche: sono narrazioni vicine alla prosa esplicita che non riescono mai ad abbandonare. Narrazioni tanto palpabili quanto strambe, ma in cui non è difficile orientarsi, seguire un districabile filo logico.
Così come nei suoi racconti, anche nelle poesie predomina in Carver la morbosa curiosità nei confronti delle innumerevoli complessità della vita umana e l'inevitabile connessione con la vita rudimentale, primaria, istintiva, rassicurante e invidiabile, nella sua semplicità, degli animali, che volentieri invadono oniriche metropoli notturne.
Carver, in ogni sua narrazione, sposta, muove, fa succedere cose sotto i tuoi occhi: siamo tutti testimoni rilassati di situazioni relativamente semplici ed estremamente interessanti che si succedono al di fuori di noi.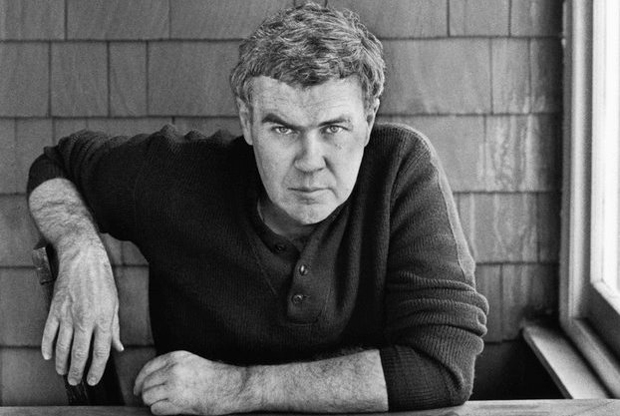 Carver è materiale, onesto: i suoi sogni lucidi sono fatti di salmoni sfuggiti all'amo, freezer guasti e tubi catodici.
Salmoni? Perché i salmoni?
Ogni tanto me lo immagino, Carver. Carver che, tra una bevuta e l'altra, passa i pomeriggi in qualche punto imprecisato e incontaminato dei 133 acri di Morse Creek, a 3 miglia da Port Angeles (WA) e pesca, pesca. Grazie alla pazienza di Carver ho imparato cosa sia un Daredevil rosso, non credo mi sarà mai utile. Grazie alla pazienza di Carver ho imparato anche che a volte c'è bisogno di sperimentare l'attesa nella speranza che qualcosa abbocchi all'amo, anche se sei certo che alla fine non pescherai nulla e allora niente, ti metti comodo e chiudi un attimo gli occhi. Questo credo potrà tornarmi utile. È stato bello così.
At Night the Salmon Move
At night the salmon move
out from the river and into town.
They avoid places with names
like Foster's Freeze, A & W, Smiley's,
but swim close to the tract
homes on Wright Avenue where sometimes
in the early morning hours
you can hear them trying doorknobs
or bumping against Cable TV lines.
We wait up for them.
We leave our back windows open
and call out when we hear a splash.
Mornings are a disappointment.
Cosa ho letto di Raymond Carver
Ecco alcuni dei titoli di Raymond Carver che voglio consigliarvi.
Anche tu puoi sostenere SALT! Negli articoli dove viene mostrato un link a un prodotto Amazon, in qualità di Affiliati Amazon riceviamo un piccolo guadagno per qualsiasi acquisto generato dopo il click sul link (questo non comporterà alcun sovrapprezzo). Grazie!