Amanda Palmer: music is changing!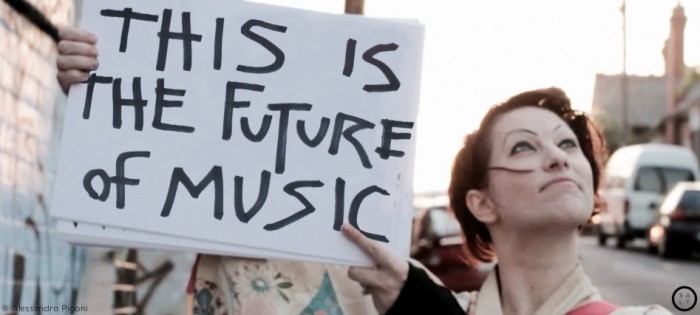 Music, and the world revolving around it, is changing, and the record industry seems to be the only one who doesn't actually see it. Music is just a display of the world, therefore as the world changes, music changes accordingly. It changes because making music means following new and old techniques, new trends and to withstand the taste of the audience, even in technology.
The Myspace phenomenon would probably deserve a much more in-depth analysis, but talking about the evolution of the record industry the first real, world-wide change happened in 2007, when the Radiohead announced, flooring the audience, that their new album was available for download from the internet, costing whatever the consumer thought it would be a fair price. From a minimum of one dollar on. Truth is, music is not costless. Music makers have to provide for the band, the equipment, the recording studio, the coffee guy… Not only, they also have to take taxes into account, they have to pay for the recording labels which will promote them and publish their CDs (and probably tell them what to sing and how to sing it, restricting their artistic freedom). Nowadays, though, the CD is just one out of many ways of listening to music, probably not even the most popular anymore. Following the Radiohead, many more artists started to experiment new ways of sharing their work. Internet really came in handy for that.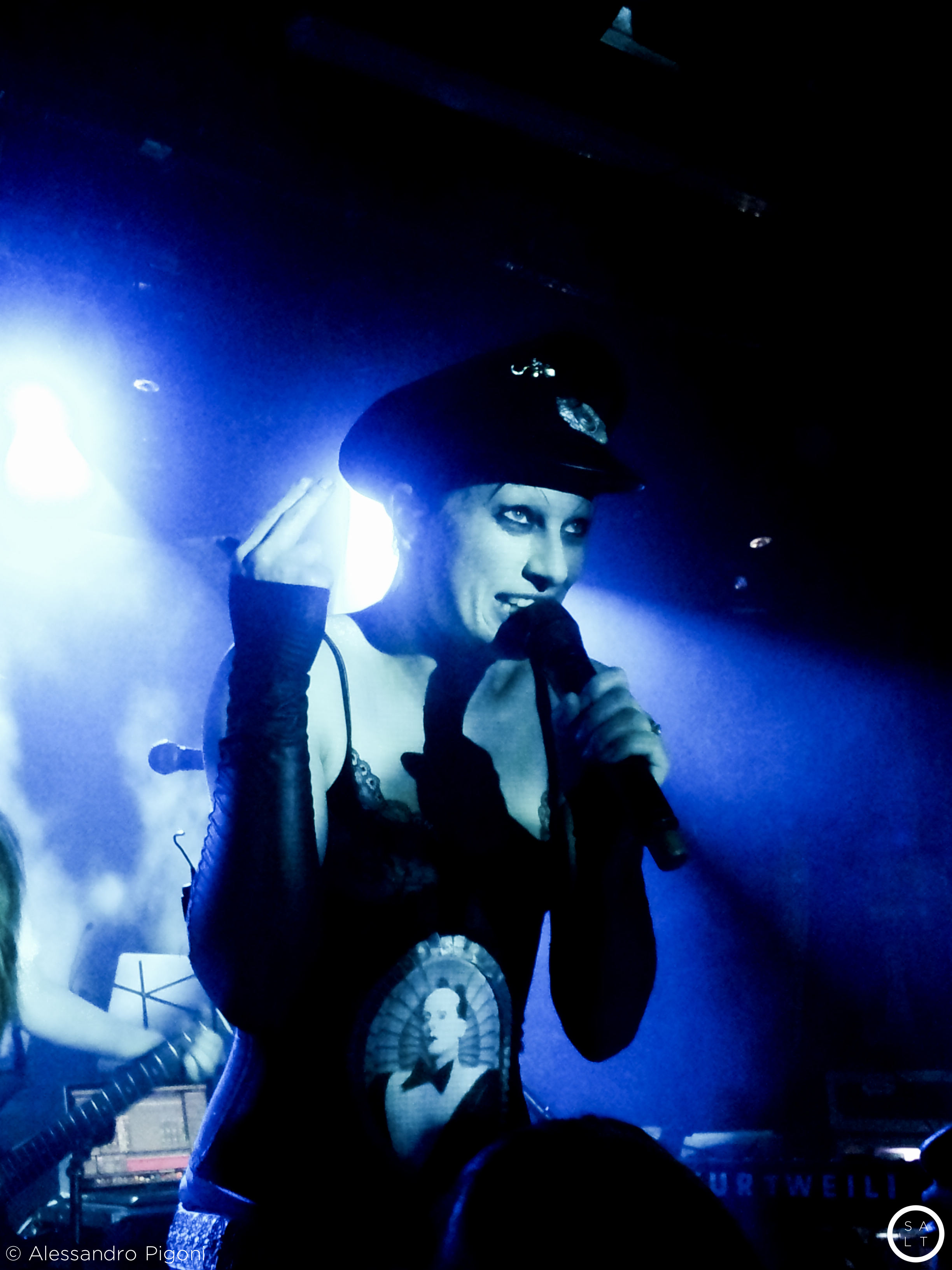 Still, the issue of money is relevant: without a recording label (without the cd, the booklet etc.), who would pay for music? That's when the internet comes in (because technology, if used responsibly, is always of great help) with the creation of crowdfunding websites. These are digital platforms where singers and artists (or anyone, as a matter of fact), can now launch their project, asking for economic help to their fans, supporters, or to anyone who considers the project worth funding. Kickstarter.com is probably the most popular one, but there are a bunch out there, some of them specific for young emerging artist, such as Musicraiser.com.
Even the advertisement world, has changed: today artists get exposure through the social networks, through Twitter and Facebook, rewarding the fans' love with all sorts of Instagram shots.
Amanda Palmer is probably the artist who understood this changing trend the best. Former lead singer of the Dresden Dolls (an outstanding piano-drums duo from Boston), Amanda Palmer successfully capitalized on the use of new technologies, starting from the social networks, with a personally-updated Twitter profile (something that should not be given for granted), a Tumblr, an Instagram account and a blog, where she created a true connection (even a relationship)  with the fans through words and pictures. She uses all this bunch of technologies for a number of purposes, (among others, she used them to raise awareness on the Amanda Todd case) always engaging her fans, with the result of creating a blog made by the readers, instead of a blog made for the readers. This skilful, and a little self-centered, use of the new media lead Amanda Palmer to the stage of TED (Technology Entertainment Design), a conference where fascinating thinkers and doers (ranging from Clinton to Nobel Prizes) give small lectures to the public. Not bad!
It's not over yet: the young Bostonian artist has recently released an album entirely financed by her fans through Kickstarter. This album set a world record since the first Kickstarter project, exceeding the million dollar donations! Amanda's talent to involve her fans, to make them feel like they are a part of something, paid her off way more than any other advertisement. And this was all done with no major recording studio. The revolution has began, or, as Amanda says, We are the Media! Being her backer has many advantages, including receiving autographed limited editions of her albums and meeting the artist, at least for those who backed her with the most substantial donations. It's a completely new way of establishing the artist-fan connection, which encompasses a long and tight relationship between them before the live show (an amazing show, by the way).
In 2012, after a Radiohead ukulele cover LP and the underrated concept album Evelyn Evelyn, Amanda Palmer, with her experienced band, the Grand Theft Orchestra, released her second solo album, Theatre is Evil, where all the musical situations of the artist melt together. The album starts off with Smile, a song emphasized by Jharek Bischoff' basses and Michael McQuilken's drums. It talks about the narcissistic tendency of our society toward portraying or filming everything, putting cameras on top of our life. From now on, the album swings between sad, soft ballads and songs with a hammering rhythm, such as Do it with a rockstar and  Want it back, the first single of the album, which kind of sounds like a fast-forward rigmarole, with an impressive stop motion video. The video of Do it with a rockstar is worth a view as well, at least if you have a youtube account (it's restricted for users under legal age), just to see what comes out of a crazy band, a bunch of cross-dresser, the porn actress Stoya, a watermelon and an exaggerated quantity of glitter. All in one video.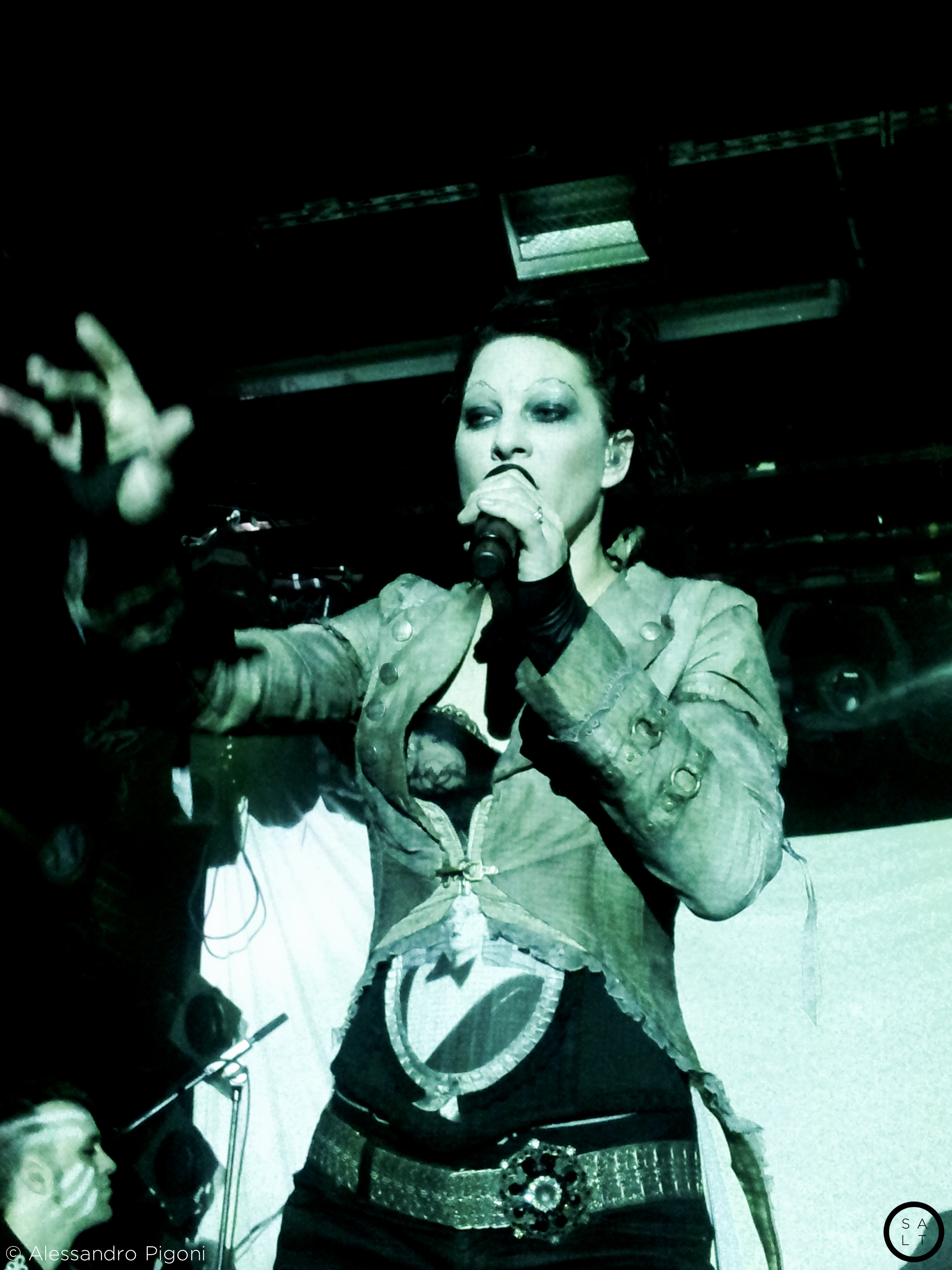 As usual, her personal life intertwines with her music, and it's shared with the audience. The Killing type arises from a letter she received from her Mum, and it looks into her real capability of physically hurting someone, underlying that not everyone is capable of attacking or defending. Trout Heart Replica is a totally different story, recalling one of her first dates with her husband, the writer Neil Gaiman (Sandman, American Gods… something like her perfect, crazy, match), a classic English man who took her fishing trouts for dinner, in a ranch where the farmer killed the fish right in front of them. As much as this is not unusual for British Gaiman, the Boston girl is not quite used to it.
The apices of the album are Grown Man Cry and The Bed Song. The first low-pitched song sounds like the Cardigans in the 90s, but it's darker and relies a lot on the synthesizer, making room for the singer's whispers and cry. During the live show, the song ends with Amanda Palmer surfing the crowd, covering  the audience  with the white , long train of her dress. On the other hand, The Bed Song is the most emotional track of the whole album, telling a love story through spaces and things (beds, in particular), with a heart rending end.
The basic idea of the album is so Amanda Fucking Palmer-style: she takes simple rhythms and turns them  in something new and noble, adding obsessively a piece of her ego, wich is the beginning and the end of every refrain. Her world revolves compeltely around her, everything starts and ends with her. A little reckless, accompanied by amazing band fellows and co-workers, (Wayne Coyne from Flaming Lips, just to name one), Amanda worships her pesonality as a form of brand, or non-brand for that matter, being a leader to all those who don't want to be labeled and feel, or are forced to feel, different. Her number one fans are freaks and college outcasts freaks who could rule the world if they only accepted themselves and  realized that being a cheerleader is only cool in high school. It has to be acknowledged, thug, that her strength is her weakness: first of all her fans can be unbearable, and second of all it's never easy to separate the artist's talent from the excitement of the supporters. I've got my personal idea on that (she is without any doubt the best around; or am I one of those freaks?), but I suggest that you listen to the album and  give the old records a chance. Nonetheless, this is what you get from the current changing environment: fans make music too, and the music industry should start fear for its future. We are the Media.
Anche tu puoi sostenere SALT! Negli articoli dove viene mostrato un link a un prodotto Amazon, in qualità di Affiliati Amazon riceviamo un piccolo guadagno per qualsiasi acquisto generato dopo il click sul link (questo non comporterà alcun sovrapprezzo). Grazie!