Come Mix Mates ha stravolto i miei orizzonti musicali unendo Fedez e Bon Iver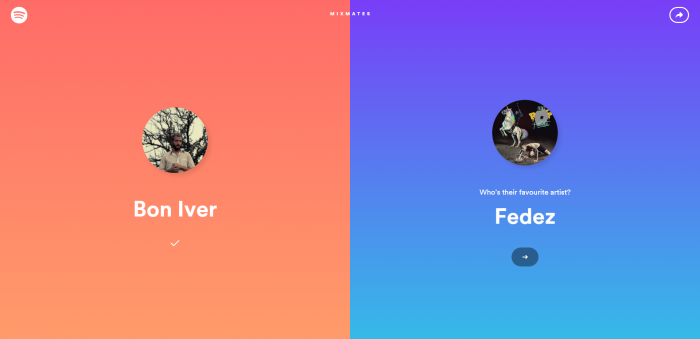 Oggi trovare le parole per baloccarci come di consueto del pensiero dominante, sembrare dei veri ribelli e mantenere il nostro status di Opinion Guru sarà molto difficile.
A sto giro, ve lo anticipo, il Sistema ha vinto.
Le cose stanno così: c'è sto nuovo servizio, molto simpa, di Spotify (che dovrebbe pagarci, ma tanto, per quanta pubblicità gli facciamo) che si chiama Mix Mates.
Come funge? È molto semplice: tu vai sul sito questo, digiti prima il tuo artista preferito e poi quello della tua ragazza, del tuo ragazzo, dei tuoi amici o del tuo cane, e l'applicazione ti restituisce una playlist/percorso musicale che mischia i vostri gusti differenti e collega i due artisti prescelti attraverso un tot di canzoni intermedie. Davvero easy.
Lo abbiamo testato per validarne l'utilizzo, ignari del trionfo a cui avremmo assistito di lì a poco.
Ma andiamo con ordine: due domeniche fa stavo con Fe aka Scal (quello che ha fatto ste foto pacco qua del nostro viaggio on the road sulla Best Coast), dicevo, stavo con Fe aka Scal, andiamo sul sito questo di Mix Mates e digitiamo, bo, chessò, Bon Iver? Bon Iver, va bene. E dillà che ci mettiamo? Facciamo una roba simpatica, tipo, uhm… FEDEZ! Minchiasì. Chissà che ci caccia fuori.
Do l'invio. "Ci sono 15 gradi di separazione tra voi". Bellastoria, vediamo.
Ok, parte con Skinny Love. Onesto. Seguono The Tallest Men on Earth (che in Italia è stato distribuito con il più spendibile nome d'arte de "I Watussi"; copia poco Bob Dylan, tra l'altro) più enne altri folkers, fino ad arrivare alla svolta piuttosto radicale di Little Nikki, discotruzzata mega. Vabbò. Nicholas McDonald la riporta sul sentimentale, ma adesso il territorio è marcatamente pop. Ok. Ci siamo quasi, atterriamo nel Belpaese: Michele Bravi (chicazzoèmichelebravi?), uguale a quello prima, ma nella nostra lingua. "Terrificante". Sìsì, c'avete ragione raga, però dai, siate originali anche nelle critiche. È inutile che la menate su quanto fa cagare alessandra amoroso, per dire, non vi rende persone migliori o più interessanti, anzi.
Diceva il buon Groucho: "Fare l'amore con la propria moglie è come sparare a un'anatra morta". Che mi sembra c'entrare qualcosa con il tema, no? Se non c'entra niente pazienza, era da mesi che volevo ficcare sta citazione in un articolo accaso.
Qui arriva il momento clou, tenetevi forte. Come ci passa, Spotify/Mix Mates, dalla canzonetta di Michelino al rap nostrano di Coez, Salmo, Dargen e Fedez? Qual è il trait d'union tra il folk statunitense e l'hip-pop italiano? Quale l'anello mancante tra l'uomo e la scimmia? Ma soprattutto, perché siamo qui?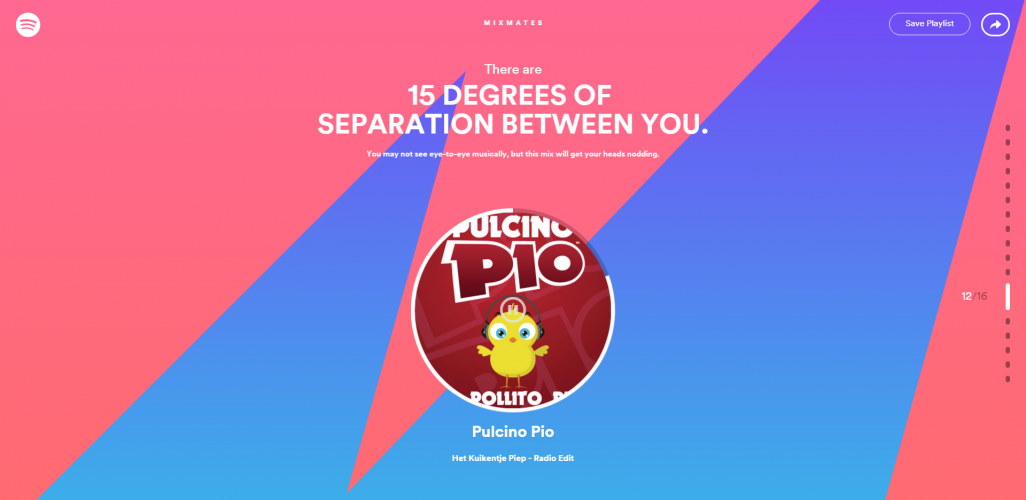 Esatto: il Pulcino Pio. Il cazzoduro Pulcino Pio.
Lasciamo a voi tutte le riflessioni del caso. Se vorrete condividerle con noi, ne saremo più che onorati.
Noi, per rispetto, per profondo rispetto, e di Pio e di Zia Virginia la Gallina, ci fermiamo qui.
I'VE GOT 99 PROBLEMS BUT A CHICK AINT'ONE.
Anche tu puoi sostenere SALT! Negli articoli dove viene mostrato un link a un prodotto Amazon, in qualità di Affiliati Amazon riceviamo un piccolo guadagno per qualsiasi acquisto generato dopo il click sul link (questo non comporterà alcun sovrapprezzo). Grazie!