There is a light and it never goes out
Un giorno, gironzolando sul web, ho incontrato Joe Bolton. Ragazzo del Kentucky vissuto negli anni '70 e '80, studia lettere all'università e il 29 marzo 1990 consegna la sua tesi di laurea, una raccolta di poesie intitolata The Last Nostalgia.
Il giorno dopo, si suicida.
Aveva 28 anni, appena uno in più delle rock star. Ma si sa, i poeti son sbadati.
Di lui si sa poco altro, su internet è praticamente inesistente e viene sempre scambiato per un tale Joe Bolton della TV americana. La "Joe Bolton Collection" è conservata all'università del West Kentucky e consiste in una scatola grigia, tipo quella delle scarpe, piena di lettere. Tutto qui.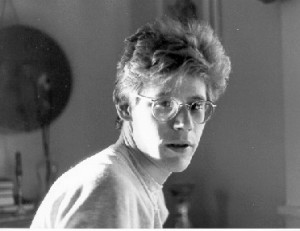 Dopo avere letto alcune delle sue poesie su internet, mi sono messa alla ricerca dei suoi libri: delle tre raccolte che ha pubblicato, solo una si può acquistare, ed è The Last Nostalgia (solo in lingua originale, per altro). Le altre raccolte sembrano introvabili. Dopo diversi tentativi andati a vuoto, ho mandato in missione Adri perché setacciasse le librerie di New York City: perfino lì, niente da fare. Anche lei si è appassionata a questa treasure hunt e ha dato un'occhiata su internet: Breckinridge County Suite, 1987, vende alla bellezza di 1770$. Milleesettecentosettantadollariperunlibro. Come minimo mi aspetto che sia rilegato in pelle umana.
Ma poco importa, perché quel poco che sono riuscita a leggere mi è bastato per farmi sospirare guardando la silenziosa luna maledicendo le vite che non ho vissuto e non vivrò con lui. Joe Bolton ha il fascino di Rimbaud, il ritmo dei Beat, la malinconia degli Smiths, l'alone di mistero (e ammirazione?) di Alexander Supertramp.
Di lui dicono che inseguisse le cose belle, come le storie d'amore, e le rovinasse per poterne scrivere.
Mentre languivo per quest'anima bella e misteriosa, ho condiviso la poesia che più mi è piaciuta con Jay, perché che gusto c'è nel crogiolarsi nella malinconia senza un'adeguata colonna sonora? Questo è il risultato:
Mentre leggo The Lights at Newport Beach mi immagino una coppia, un mix tra Napoleon Dynamite e Californication, che arriva con la cadillac decapottabile sul ciglio della collina che sovrasta Newport Beach. Spengono la macchina, si siedono sul lungo cofano e guardano la città burn burn burn like fabulous yellow roman candles exploding like spiders across the stars and in the middle you see the blue centerlight pop and everybody goes "Awww!"
The Lights at Newport Beach – Joe Bolton
If there were a time for everything
(And there is); if that phosphorescent light
Stuning the Pacific meant anything
(And it does); if all this world of worlds might
Become more than the museum for something
We have lost(and it will)… But not tonight.
Tonight, love, Newport Beach is simply on fire,
The buildings blazing up under the sky,
The streets running headlong into the sea.
If we were more than the sum of our desire
(But we're not); If there were a language I
Could find to get beyond the opacity
Of zero… But I'm tired of words and all we turn
Away from. I just want to watch it burn.
Anche tu puoi sostenere SALT! Negli articoli dove viene mostrato un link a un prodotto Amazon, in qualità di Affiliati Amazon riceviamo un piccolo guadagno per qualsiasi acquisto generato dopo il click sul link (questo non comporterà alcun sovrapprezzo). Grazie!