Give Me 5 (Mainstream Edition) | vol.30
Settimana 7-13 dicembre 2015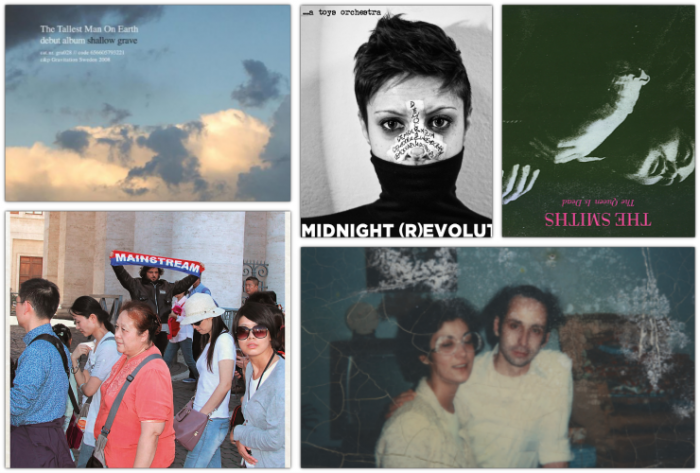 Prologo
L'inevitabile è successo! L'evento dell'anno si è svolto: sabato sera la redazione (quasi) tutta di SALT si è ritrovata, ed è inutile dirvi che la situazione è degenerata dopo un paio di bicchieri di passito… Tutti i ruoli in redazione sono cambiati, ora regna l'anarchia (o almeno qualcuno ci sperava) e il social media manager Tusca ha occupato il #GiveMe5.
La playlist secondo Tusca
La settimana inizia alla grande, il ponte dell'Immacolata ci prepara alle feste e rende questo lunedì quasi amabile. Questa playlist è anche per voi che, nonostante tutto, siete impegnati a lavorare/studiare (SFIGATI!). Vi proponiamo una playlist Mainstream, sicuri che apprezzerete.
The Smiths | Bigmouth Strikes Again
Gli Smiths nel #GiveMe5 mancano da troppo tempo. Secondo singolo estratto da The Queen is Dead, dopo le sommosse redazionali di sabato sera, non poteva mancare. Morrissey sarebbe orgoglioso di noi.
Calcutta | Dal Verde
Qualche giorno fa è uscito il nuovo album di Calcutta, Mainstream. A noi il disagio made in Latina piace. Vi risparmiamo Gaetano e Cosa mi manchi a fare, ormai troppo mainstream, e ci tuffiamo sulla malinconica di Dal Verde.
Sufjan Stevens | Should Have Known Better
Pezzone di Sufjan Stevens, estratto dal nuovo album Carrie & Lowell che segna il ritorno al folk del cantautore americano. Pezzo malinconico, perché vogliamo comunque ricordarvi che è lunedi!
The Tallest Man On Earth | The Gardener
Singolo dell'album Shallow Grave, il cantautore svedese è stato influenzato dalla musica folk americana, non si direbbe vero?
A Toys Orchestra | Midnight Revolution
Midnight Revolution, uscito nel 2011, è stata una conferma, può essere considerato un sequel di Midnight Talks (2010). Scegliamo proprio la canzone che apre il quinto disco di questi cinque ragazzi italiani dalle influenze brit-rock.
Epilogo
Voi c'avete un social media manager,  noi c'abbiamo un super media manager.
Anche tu puoi sostenere SALT! Negli articoli dove viene mostrato un link a un prodotto Amazon, in qualità di Affiliati Amazon riceviamo un piccolo guadagno per qualsiasi acquisto generato dopo il click sul link (questo non comporterà alcun sovrapprezzo). Grazie!