Settimana 4 - 10 maggio 2015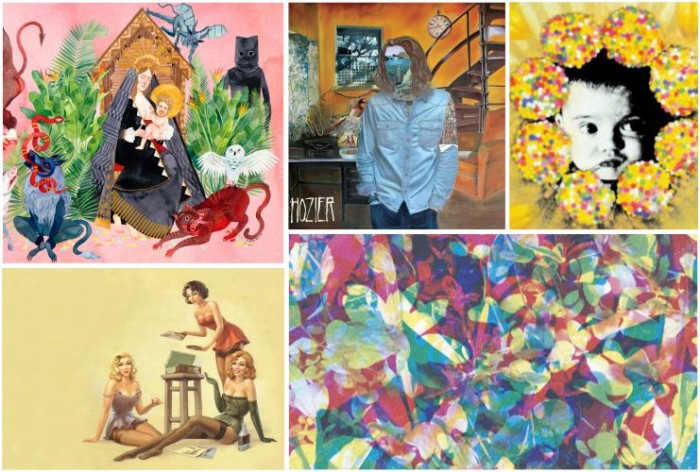 "Buongiorno e buon inizio di fine settimana" a tutti. Un altro lunedì, un altro Give me 5.
Nelle puntate precedenti (vol.1 e vol.2) vi abbiamo deliziato con elettronica di alto livello, ma siccome già per la strada veniamo additati come piccoli sballini che gli ci piacciono le sostanze sintetiche, oggi passiamo dal mood droghereccio al mood romantico. Ché è importante per noi smarcarci dalle etichette e sorprendervi sempre.
Eccovi quindi un meravigliuoso Give me 5 da dedicare alla vostra futura moglie, tutto anglofono ovviamente (c'è ancora qualcuno nel 2015 che pensa di poter conquistare una donna con le canzoni di Toto Cutugno?):
Radiohead | Creep
Sì, ci piace vincere facile.
"You're so fuckin' special/ I wish I was special/ But I'm a creep, I'm a weirdo"
Father John Misty | Chateau Lobby #4 (In C for Two Virgins)
Il brano più bello di quella che, ad oggi, è senz'altro la migliore uscita pop del 2015: I Love You, Honeybear.
"I haven't hated all the same things/ as somebody else/ since I remember/ What's going on for?/ What are you doing with your whole life?/ How about forever?"
Hozier | Like Real People Do
Una incantevole ballata del celebratissimo autore di Take Me To Church.
"So I will not ask you where you came from/ I would not ask and neither would you/ Honey just put your sweet lips on my lips/ We should just kiss like real people do"
The Fratellis | Whistle For The Choir
Una canzone leggera e ironica. Per chi è condannato ad inciampare di continuo in donne non del tutto registrate. E ad innamorarsene puntualmente.
"So if you're crazy, I don't care, you amaze me/ But you're a stupid girl"
Caribou | Can't Do Without You
"cantdowithout-cantdowithout-cantdowithout-cantdowithout-I CAN'T DO WITHOUT YOU"
+ Bonus Track (oggi vogliamo strafarci strafare)
Giorgio Gaber | Quando sarò capace d'amare
È sempre difficile (e forse stupido) fare affermazioni del genere, ma credo si tratti della canzone d'amore più bella che sia mai stata scritta. Dopo L'Amour Tojours di Gigi D'Agostino, perlomeno.
Non c'è su Spotify, quindi godetevi il video Youtube chagalliano qua sotto.
Anche tu puoi sostenere SALT! Negli articoli dove viene mostrato un link a un prodotto Amazon, in qualità di Affiliati Amazon riceviamo un piccolo guadagno per qualsiasi acquisto generato dopo il click sul link (questo non comporterà alcun sovrapprezzo). Grazie!