TAR, Cap. I - Marina, le frecce e i battiti del cuore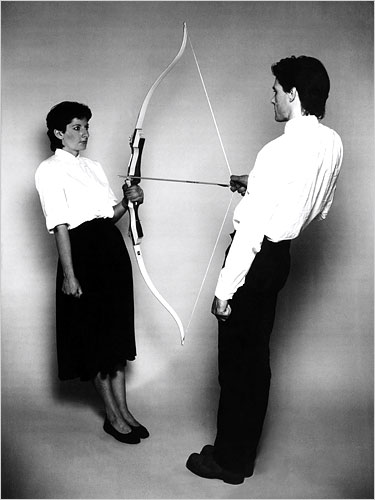 Titolo: "Rest Energy"
Artista: Marina Abramović & Ulay
TAR: Performance art
Durata: 4 minuti
Anno: 1980
Collezione: NIMk –  Netherlands Media Art Institute 
 *
1980.
Amsterdam.
Due corpi vivi rifuggono al proprio perpendicolo – si guardano negli occhi, a decine di centimetri. Un baricentro abbandonato per l'esterno dello spazio, in caduta sulla gravità della terra. Angoli acuti dietro alle caviglie.
Arco e freccia a cui aggrapparsi per tutelare la schiena dal suolo.
Arco e freccia puntati per quattro minuti di Rest Energy, energia a riposo (?), energia in attesa. Marina e Ulay si incastrano l'un l'altra le pupille, si affidano al peso reciproco e indietro tendono, tendono l'arco. La probabilità della freccia scoccata diventa letale all'eventuale tremare delle falangi, un respiro controllato poco, un brivido nelle vertebre. La freccia puntata al ventricolo.
Sulle costole di entrambi, paralleli al cuore, due piccoli microfoni: per quattro minuti ascoltano i reciproci battiti cardiaci. Colpi sordi al correre del sangue ossigenato, il rumore archetipo della vita che esiste tambureggia loro nei timpani.
Dirà Marina:
As our performance was progressing, heartbeats were becoming more and more intense, and though it lasted just four minutes and ten seconds, I'm telling you, for me it was forever.
Lei ha indagato tutta la vita quel performante concetto di presente – siamo qui, ora, tocchiamo l'arte con le dita. Lui le ha sublimato le opere e i sentimenti – qui ci siete passati tutti, e tutti c'abbiamo lasciato qualche inavvertita lacrima salata. Ed ecco che in Rest Energy – la performance piu' difficile della mia vita – Marina affronta il concetto di per sempre. La totale fiducia che annienta il tempo. Quei quattro minuti che sparigliano lo scorrere dei giorni – l'amore della vita che tende l'arco, e punta la freccia a bucare il mio cuore.
Come può l'artista, come può la donna, come può l'essere vivente scientemente rinunciare al controllo – rinunciare all'autorita' sulla propria vita – per affidarlo a chi e' altro da se', nel rischio di un letterale spargimento di sangue?
C'e' un amore rarefatto in questi due corpi tesi: ed ecco l'opera che si disvela, all'indagare chi sceglie di affidarsi, ciecamente, al suo carnefice in potenza. L'anima che si fida. I minuti che si cancellano.
L'arte che afferma: qui io e te, amore mio, un'arma fra noi e i battiti del nostro cuore – su tutto, le nostre parole piu' temerarie:
mi fido di te