Give Me 5 (GiveMe5 Edition) | vol.28
Settimana 24 - 29 novembre 2015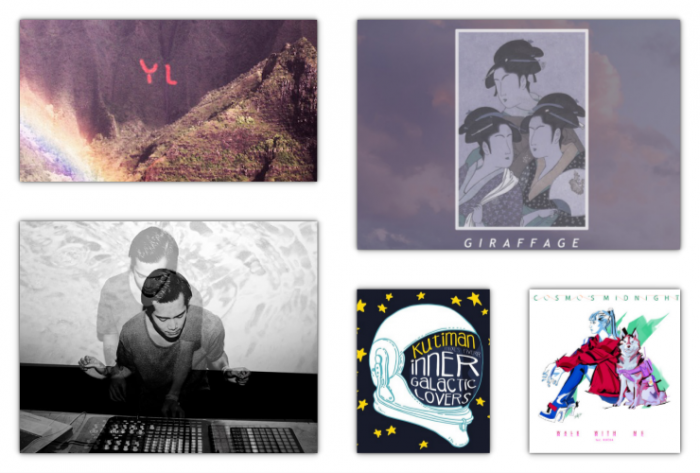 Il Lunedì.
Il GiveMe5.
La Playlist Del Lunedì (PDL).
Un'iniziativa che nasce per raggiungere due ambiziosi obiettivi:
1. To "gain fluency in both the allusive poetry of intuitive discovery and the precise prose of analytical rigor"
2. Spaccare il culo ai tombini
Come lo facciamo? Squagliamo musica nei cucchiaini, friggiamo atmosfere nelle narici, francobolliamo suoni sulle papille gustative.
L'effetto che otteniamo è quello di ribaltare il senso comune delle cose, l'orientamento in testa delle rose e baciare rime in overdose. Del tipo che ci vuole poco, alla fine, per vedere il mondo con occhi diversi.
Prendi il lunedì. Perché non pensarlo come il secondo giorno dei sette? D'improvviso possiamo scoprire che la nostra personale settimana si chiude con un giorno di riposo, il sabato, e si apre con un giorno di riposo, la domenica. Cambia completamente la prospettiva, no?
Lemontrip | Breath
"An entirely absorbing sound which has the feeling of perpetual motion". Lemontrip su Lemontrip.
Kutiman | Inner Galactic Lovers
Amanti cosmici, ritmi lunari e effettini da rimastino in background a cui dovete fare caso.
We are. Inner. Galactic. Lovers. E le scimmie iraniane nello spazio.
Cosmo's Midnight con KUCKA | Walk With Me
Per un viaggio di mezzanotte nel cosmo del groove.
(Juraj c'ha dei piedi che sono due ferri per operare, ma la voce è in 100% cashmere. Top player).
Giraffage | Feels
Le giraffate. Le giraffe agiate. Le sensations sonore degli animali che si fanno venire il collo lungo a forza di cercare gli adesivi sugli alberi.
Youth Lagoon | 17
"Oh, when I was seventeen, my mother said to me – Don't stop imagining. The day that you do is the day that you die." Sì, parla di droga, certo che parla di droga.
Comunque il secondo giorno della settimana è veramente una merda.
Anche tu puoi sostenere SALT! Negli articoli dove viene mostrato un link a un prodotto Amazon, in qualità di Affiliati Amazon riceviamo un piccolo guadagno per qualsiasi acquisto generato dopo il click sul link (questo non comporterà alcun sovrapprezzo). Grazie!