Give Me 5 (Paolo Fox Edition) | vol. 102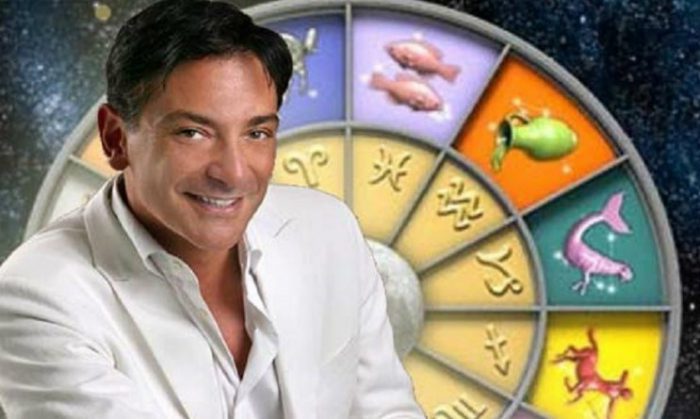 È un caposaldo del palinsesto televisivo di fine anno, scalza Magalli e Mentana. I suoi grafici sono più attesi di quelli della Bce, stiamo parlando dell'uomo delle stelle. No, non è Bowie, ma: Paolo Fox.
I potenti mezzi della nostra redazione non sono sono riusciti a raggiungere il Sommo, ma il 2018 è alle porte e non potevamo lasciarvi senza le nostre predizioni. Tra un mozzico al torrone e in attesa delle lasagne della nonna (non esagerate Bilancia, che vi finisce sui fianchi e non dite che l'oroscopo non c'azzecca), il GiveMe5 del lunedì, raggruppato per elementi (12 segni erano troppo impegnativi) dalla vostra Madre dello Zodiaco, prima del suo nome, regina delle (pan di) Stelle e dell'Ascendente, legittima erede del Trono delle Sfighe, protettrice della pausa pranzo, Khaleesi del Grande Mare del malessere, "la Non-ustionata (in inverno)" etc etc.
ACQUA – Beautiful Ones | Suede
Carissimi amici dei segni d'acqua e soprattutto mie prediletti dello Scorpione, il vostro lato di sorella single (per scelta altrui) di Ramsay Bolton vi abbandona. Lo charme vi farà brillare più di un albero addobbato. Il 2018 sarà una cornucopia di ottime opportunità: ricchi e generosi come un cesto natalizio. L'amore accarezza l'anima e non solo. Morbidi come i Suede, so Shake your bits to the hits, because you are beautiful. Il piano copulatorio lieviterà come l'impasto del panettone.
ARIA – Absolute Beginners | The Jam 
Professionalmente sarete proiettati come una cometa nel deserto. Arriveranno followers su cammelli, vi porteranno oro, incensi e mirra. Sarà possibile il cambio merce entro 30 giorni. Per l'ormone colonnina sotto zero, attenzione alle correnti d'aria : copritevi! Polo e parka ben abbottonati, in stile Mod. Non siate Absolute Beginners.
TERRA – Something to Remember | The Horrors 
Avrete il coltello dalla parte del manico, con cui affettare i parenti..ops, il panettone. Nel 2018 gli zebedei, da terra, ritorneranno sotto la cintola. Marte impera nella sfera lavorativa e vi ricompenserà. Nella zona tropicale vige il patto di libera circolazione di Schengen. Vi abbandonano gli Horrors di qualche tempo fa, sarà Something To Remember.  Afrori di estatico appagamento. Argh!
FUOCO – Personality Crisis | New York Dolls
Chiudete il 2017 con gli attributi a cubetti come lo spezzatino di Santo Stefano e sarete digeribili come besciamella avariata. Keep calm, recuperate la forma fisica, ora ai livelli inquietanti stile ritrovamento di Laura Palmer. L'angelo del presepe veglia su di voi in tutti i campi,  nel nuovo anno vi tramuterete into the wolfman howlin' at the moon, hooowww. Supererete la Personality Crisis, in puro stile Glam rock.
OFIUCO – Easy Easy | King Krule
Nessuno vi riconosce ufficialmente. La sfiga vi stringe come il bottone dei pantaloni dopo il pranzo di Natale. I vostri istinti zampogniformi dovranno placarsi, si prevede conservazione tramite abbattitore. Data di scadenza: 2milacredici. Easy, Easy. Ve lo dice anche ginger-head Archy, aka King Krule.
Ambasciator non porta pena, come dice il Signore delle stelle: " Non credete nell'oroscopo, ma verificatelo"
Anche tu puoi sostenere SALT! Negli articoli dove viene mostrato un link a un prodotto Amazon, in qualità di Affiliati Amazon riceviamo un piccolo guadagno per qualsiasi acquisto generato dopo il click sul link (questo non comporterà alcun sovrapprezzo). Grazie!