Anomalisa, di Charlie Kaufman e Duke Johnson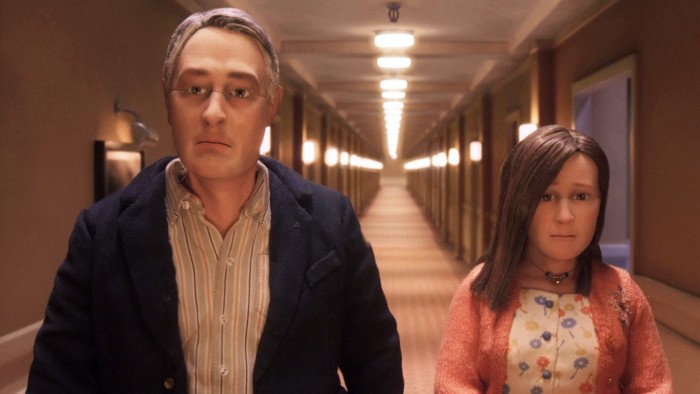 Il regista di Synecdoche, New York (nonché sceneggiatore di Eternal Sunshine of the Spotless Mind), Charlie Kaufman si confronta col cinema d'animazione ed il risultato è sorprendente quanto straniante, con la precisa intenzione di creare un film importante, per adulti, e neppure per tutti. Innanzitutto l'utilizzo dello stop motion come non lo vedevamo da tempo: cioè con un intento programmatico, funzionale alla storia stessa. La tecnica rende meglio di qualunque dialogo lo straniante mondo del protagonista, Micheal Stone, l'imprecisione dei movimenti, l'insicurezza delle espressioni, il tremolio nelle labbra.
Ugualmente la sceneggiatura è potente quanto alienante. Senza rivelare nulla, il protagonista vive in un mondo dove tutti hanno la medesima faccia, ma soprattutto la medesima voce (il nome dell'hotel in cui soggiorna, Fregoli, rimanda all'omonima sindrome, appunto). Tutti tranne l'anomalia Lisa, Anomalisa appunto. Più che una sindrome psichica vera e propria, però, al centro della vicenda c'è la difficoltà di vivere, l'impossibilità della comunicazione fra esseri umani e l'inconoscibilità all'interno dei rapporti. Tutti temi difficili, già affrontati nel precedente Synecdoche, New York, che rendono il film, pur d'animazione, di non facile digestione, ma di grandissima bellezza e profondità.
Sembra ormai chiaro che gli unici sprazzi di originalità ad Hollywood si trovino nell'animazione, forse  ancora libera dalle convenzioni e malleabile secondo la mente del regista.
Voto: 8
Anche tu puoi sostenere SALT! Negli articoli dove viene mostrato un link a un prodotto Amazon, in qualità di Affiliati Amazon riceviamo un piccolo guadagno per qualsiasi acquisto generato dopo il click sul link (questo non comporterà alcun sovrapprezzo). Grazie!